We've been getting a lot of positive feedback about the new parklet. There's been an equal number of inquiries regarding how to actually go about getting it done for other small businesses in the area. Below are a few guidelines, links, and lessons for those of you who might be thinking about installing a parklet yourself.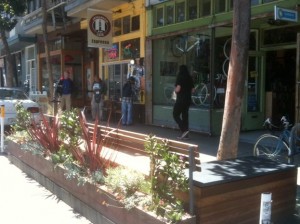 The parklet was fully financed by the Freewheel but had to be approved by the city. The application process is fairly straightforward but will require you to present blueprints, gain the approval of neighbors, and provide some justification as to why your idea would be a positive contributor to the community. In most cases, businesses are required to take up two full parking spaces with their parklet addition (we used the pre-existing bicycle corral to the north of the parklet to justify a complete pair). More information on the application process and specific selection criteria can be found on the official Pavement to Parks website.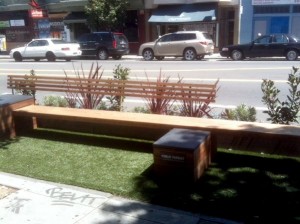 As mentioned above, you will need to send in blueprints for your parklet. Rebar Group is responsible for the majority of parklets in the area and their experience branches into other areas of public space as well. They can help you through the process with minimal involvement.
The Freewheel took on a more involved approach and worked closely with Kanbayashi Designs to come up with our own unique design. The garden element of the parklet was done by Micah Reed of Thrive landscaping, who has since consulted us with considerable enthusiasm on how to better look after our plants.
The Mission has been good to us over the years and we are thrilled to have the opportunity to give back to the community. Maybe we have a bias but it seems that the parklet is doing more for the community as a whole than a parking space ever did. We're happy we were able to get it installed successfully and wish you all best of luck in giving this City a more neighborhood feel.